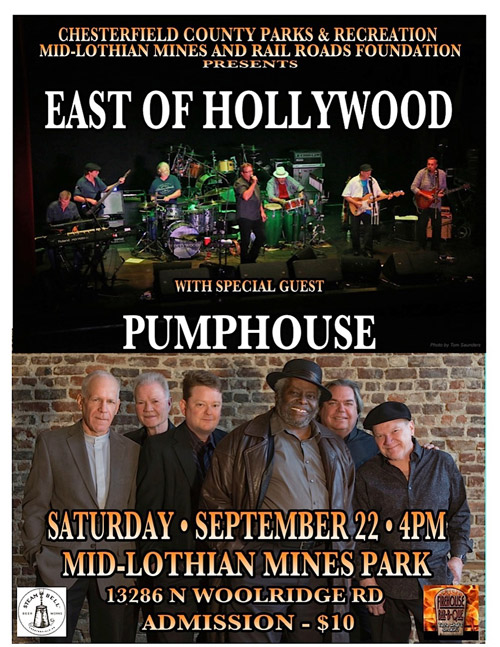 Chesterfield County Parks & Recreation and Mid-Lothian Mines and Railroad Foundation Presents
EAST OF HOLLYWOOD with Special Guest PUMPHOUSE in concert on Saturday, September 22, 2018 at 4pm the Mid-Lothian Mine Park at 13286 N. Woolridge Rd. in Midlothian, VA
Food vendors will be Firehouse Bar-B-Q and Coalmine Coffee. Steam Bell Beer Works will be there.
The Mid-Lothian Mines and Railroad Foundation will be selling its Ball Caps and T-Shirts.
Tickets are $10 and will be sold at the gate.
Cash, credit and debit cards are accepted.
Bring a lawn chair or blanket.
Plenty of Park parking with overflow parking at American Family Fitness.
See more info on Facebook and the website:
https://www.facebook.com/midlominespark
https://www.midlomines.org